Literary Connections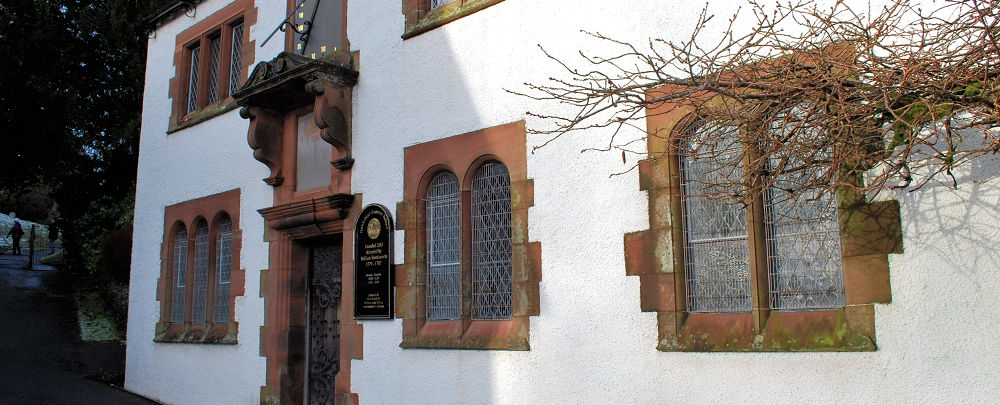 William Wordsworth attended Hawkshead Grammar School between 1778 and 1787, when it was one of the best schools in England. Visitors can still see the desk on which he carved his name.
The school was founded in 1585 by Edwin Sandys, Archbishop of York and a native of the parish. A sundial and tablet to his memory can be seen over the door. One of the exhibits on display is Anne Tyson's account book; she and her husband owned lodging houses in Hawkshead and Colthouse to accommodate the scholars, including Wordsworth and his brother.
http://www.hawksheadgrammar.org.uk/?HOME
'Must Sees' for admirers of Wordsworth
• Hawkshead Grammar School (inside as well as exterior);
• The Old School House, where the Master lived (exterior only);
• St Michael & All Angels, with particular note of 'Church End', outside under the east window; also note some of the gravestone epitaphs;
• Anne Tyson's Cottage in Vicarage Lane;
• Greenend Cottage, another lodging run by the Tysons at Colthouse; the route from Pool Bridge to Colthouse is called 'Sweet Willie Lane' . . .
• If time permits, the footpath from Vicarage Lane, via Shadow Wood, to the hamlet of Hawkshead Hill, thence to Tarn Hows (The Tarns in Wordsworth's day), and excellent views of the Yewdale Crags, and especially Raven Crag, where the boy went birds-nesting;
• Or up Vicarage Lane, past Walker Ground and on to Goosey Foot Tarn, another schoolboys' haunt, and he was to write of it, 'then amidst open moorland, with woodcock . . .'
Beatrix Potter (Mrs Heelis) lived at Castle Cottage, Near Sawrey, two miles from Hawkshead. Hill Top, her first property purchase, is the location – inside and out- for many of her tales. It is now a National Trust property open to the public.
Her husband, a solicitor, had his offices in Hawkshead. That solicitor's office now houses The Beatrix Potter Gallery (National Trust), where displays of her original illustrations for her famous little books for children can be viewed. Many references to Hawkshead feature in her drawings, watercolours and writings. The character Johnny Town Mouse is based on the village doctor, Dr Parsons, a great friend of her husband. Both men shared a keen interest in golf – hence Johnny Town Mouse is drawn with doctor's bag in one hand and golf clubs.
'Must Sees' for Beatrix Potter fans
• Hill Top in Near Sawrey (National Trust);
• 'The Pie & the Patty Pan' archway (into Vicarage Lane), used by Ribby & Duchess;
• Thimble Hall, opposite the Post Office;
• The Johnny Town-mouse archway between the King's Arms and the Co-Op;
• Slater's Yard, former site of the solicitor's office (off Fountain Street);
And spot other recognisable locations for yourselves . . .
• The Courthouse; sketched by BP and photographed by her father;
• Friends' Meeting House at Colthouse & Sepulchre Corner, which BP visited;
• Walk up to Goosey Foot Tarn (The Fairy Caravan);
• Walk to Tarn Hows, part of the Marshall family's Monk Coniston Estate 'saved' by BP: she gave the National Trust time to fund-raise, and purchase parts from her at cost, and she herself farmed the Herdwick farms in the Yewdale valley, eventually bequeathing them to the National Trust;
• Walk the footpath across Long Meadow, via Blelham Tarn, to Wray Castle, where the Potter family summered when Hardwicke Rawnsley was Curate. to the public.
Images copyright A2A Advertising Ltd